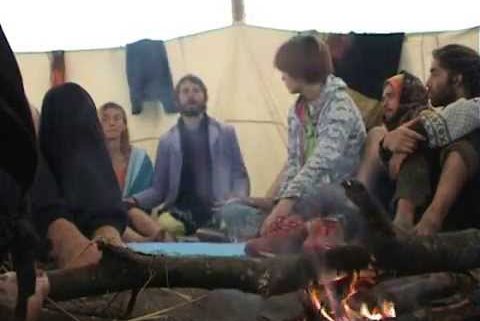 [Desplazarse hacia abajo para la traducción española]
Tantra Introduction Day
24 June 2017 Orgiva, Spain
Tantra Movement after travels, searching, and exploring the planet, finally, slowly  is getting rooted. We found home in wonderful community Badulina.org , in one of the most spiritual oases of the world, Orgiva, Andalusia, south of Spain.
The intentions of our first event here are to connect, to liberate, to share unconditional love and to grow into sacred sexuality. All those aspects are included in tantra – for us high spiritual path and very efficient activism for whole humanity, Mother Earth, animals and whole universe.
This is the program of the day
1. 10.00 – 11.00 Tantra Yoga (5 E)
2. 11.00 – 12.00 Fruity light breakfast (3 E)
3. 12.00 – 13.00 Tantra Kriya Yoga (5 E)
4. 13.00 – 14.00 Vegan lunch (9 E)
5. 14.00 – 16.00 Sat sang:  Being one through tantra (free contribution)
6. 16.30 – 17.00 Salade break (3E)
6. 17.00 – 20.00 Taste of Tantra workshop (30 E)
7. 20.00 Sharing circle ritual ( experience, feelings, food )
Whole day 10.00 – 21.30 (50 E)
You may choose one or more of the parts, what fit you most or you may stay with us whole day. We wish that each of you may find something best for yourself.
Whole profit would go for building up, improving our retreat, cultural and spiritual centre in Badulina community.
When you feel that price is to high for some reason and you feel to be on the event just contact us to find best solution.
Who we are:
Tantra Movement School introduces you to the path of tantric practice and lifestyle. It´s a way of deep experience, abandoning concepts, energy exchange, gaining awareness, entering a true intimate relationship with yourself and others. It expands you to the deepest and highest levels of love and ecstasy through exploring all dimensions possible to you. From the place where you are we support you on your journey of growing into your full potential.
My 10 years long tantric experience, 5 years intensive teaching, graduating tantra masseur and trainer levels on Rasayana Tantra Academy and Alina's love and yoga, gives us the power of partnerchiat, power of free and conscious relationship to share tantra wisdom with you
Growing organically, new community Badulina is a fertile ground for many more other initiatives and connections than our dream for retreat centre.
Where:
Orgiva, Andalusia, south of Spain.
GPS: 36.901393 – 3.443417
Turn right after Lanjaron, on the bus stop, next to the sign Almazara, then follow the sign 
Do not hesitate to ask any questions
mgriks@gmail.com 642075516
www.badulina.org
Michal Kali Griks
http://tantramovement.blogspot.nl
[ TRADUCCIóN ESPAñOL ]
La Escuela de Movimiento Tántrico te presenta el camino hacia la práctica y estilo de vida tántrico. Es un camino de profunda experiencia, abandonado conceptos, intercambios energéticos, mediante los cuales vas adquiriendo consciencia para entrar en una verdadera e íntima relación contigo mismo y con los demás. Te expande hacia los más profundos y elevados niveles de amor y éxtasis a través de la exploración de todas las dimensiones posibles para ti. Desde el lugar en el que te encuentras te apoyamos en éste viaje donde desarrollarás todo tu potencial.
Día Introductorio al Tantra
24 de Junio de 2017 en Órgiva, España
El Movimiento Tántrico después de muchos viajes, búsquedas y exploración del planeta, finalmente y poco a poco se está arraigando. Encontramos un hogar en la maravillosa comunidad Badulina.org, en uno de los más espirituales oasis del mundo, Órgiva, Andalucía, en el sur de España.
Las intenciones de nuestros primeros encuentros aquí son las de conectarnos, liberarnos, compartir amor incondicional y crecer en nuestra sexualidad sagrada. Todos estos aspectos están incluidos en Tantra- Para nosotros es un camino de elevada espiritualidad y un muy eficiente activismo para toda la humanidad, la Madre Tierra, los animales y el Universo entero.-
Aquí el programa del día
1. De 10:00 a 11:00 Tantra Yoga (5€)
2. De 11:00 a 12:00 Desayuno de luz frutal (3€)
3. De 12:00 a 13:00 Tantra Kriya Yoga (5)
4. De 13:00 a 14:00 Almuerzo Vegano (9)
5. De 14:00 a 16:00 Sat Sang: Ser uno a través del Tantra (contribución voluntaria)
6. De 16:30 a 17:00 Descanso salado (3)
7. De 17:00 a 20:00 Taller de Tantra (30)
8. A partir de las 20:00 Compartiremos rituales en círculo (experiencias, sentimientos, comida)
Todo el día de 10:00 a 21:30 (50€)
Puedes elegir la combinación que más encaje contigo, elegir una o varias opciones, o estar todo el día con nosotros. Sólo deseamos que cada uno encuentre lo mejor para sí mismo.
El beneficio total se destinará a la construcción, la mejora de nuestro retiro, centro cultural y espiritual en la comunidad de Badulina. Si sientes que por alguna razón el precio es demasiado alto, por favor, contacta con nosotros para encontrar la mejor solución.
Quienes somos:
El Colegio de Movimiento Tántrico te introduce en el camino de la práctica y estilo de vida Tántricos. Es un camino de experiencia profunda, abandono de conceptos, intercambios energéticos, entrando en una verdadera e íntima relación contigo mismo y otros. Te expande hacia los más profundos y elevados niveles de amor y éxtasis a través de la exploración de todas las dimensiones posibles para ti. Desde el lugar en el que estás de apoyamos en el crecimiento de todo tu potencial.
Mi experiencia tántrica de 10 años, 5 años de enseñanza intensa, masajista tántrico graduado y entrenador de niveles en la Academia de Tantra Rasayana junto con el amor en el Yoga de parte de Alina, nos da el poder de partnerchiat, el poder de la relación libre y consciente para compartir de la sabiduría del tantra contigo.
Creciendo orgánicamente, la nueva comunidad de Badulina se ha convertido en un terreno fértil para la creación de muchas más iniciativas y conexiones que las que nuestro sueño de centro de retiro podría esperar.
Where:
Orgiva, Andalusia, south of Spain.
GPS: 36.901393 – 3.443417
Turn right after Lanjaron, on the bus stop, next to the sign Almazara, then follow the sign 

No dudes en hacer cualquier tipo de pregunta
mgriks@gmail.com 642075516 
 www.badulina.org
Michal Kali Griks
http://tantramovement.blogspot.nl/
https://tantramovement.com/wp-content/uploads/2015/09/rainbow-lithuania.jpg
360
480
Tantra Coach
https://tantramovement.com/wp-content/uploads/2018/11/Tantra-Logo-new-cut-Website-300x138.jpg
Tantra Coach
2017-01-28 00:44:00
2017-12-03 16:40:33
Tantra Introduction day in community Badulina in Spain