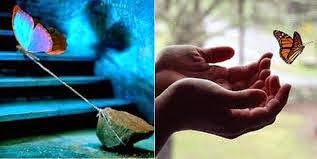 I was already visiting quite a lot of Marek's workshops. I can just say it is amazing! Marek is a wonderful teacher of Tantra who is spreading one of the most beautiful ways of love by teaching & living this ancient path of unconditional love. I really enjoyed that the workshops were mainly practical ones, which are made up in a creative and funny way. I didn't know before how sensitive a human body can be, how magical it can be if somebody is caressing over your face softly while you're having closed eyes and how beautiful it is to receive and to give a massage full of love…
After participating in all those workshops I noticed that I have way more creative thought rising up. It probably has to do with the new ability I started to learn: leading the sexual energy through your whole body instead of releasing it.
I want to underline one workshop which was really special for me. It is the one where you learn how to deblock yourself. After pressing strongly a few particular points in your body for quite a while your really get into another status of mind. At least it was for me like this. It was a bit like the fog is disappearing with awareness. I could see the beauty with every little thing. The feeling of my body was way more sensitive. Even my breathing felt like one of the most beautiful things in the world. I felt true happiness.
It is pretty hard to describe those feelings because it was beyond words.
Thanks a lot Marek! You help to change the world into a better one by spreading the seed of true love & deep joy.
Salin 2014

https://tantramovement.com/wp-content/uploads/2017/01/image-783161.jpeg
159
317
Tantra Coach
https://tantramovement.com/wp-content/uploads/2019/01/Logo_400x200-300x146.jpg
Tantra Coach
2014-12-15 17:10:00
2019-05-08 15:19:49
Testimony about de armouring workshop